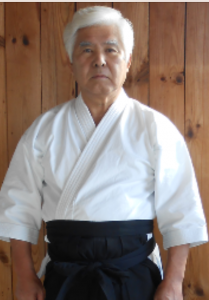 Makoto Ohtsu Sensei
The Saskatoon Aikikai is pleased to announce the 40th anniversary seminar with  the founder of the Saskatoon Aikikai, Makoto Ohtsu Sensei 7th dan from Nagoya Japan. The seminar will be held Friday May 25th to Sunday May 27th. Guest instructor will be George Hewson Sensei 6th dan from the Canadian Aikido Federation.
Makoto Ohtsu Sensei is a retired Commerce Professor from Nagoya Japan who founded the Saskatoon Aikikai in 1978. He moved back to Japan in the early 1980's and owes and operates the oldest Aikido dojo in Nagoya Japan.   www.showadojo.jp/en_aboutdojo.html
Makoto Ohtsu Sensei will share stories of starting Aikido on the rooftop of a Japanese office building.
George Hewson Sensei has dedicated many years to promoting Aikido in Canada and first came to Saskatoon in 1992. aikidoseishinkai.ca .
Don Ragush Sensei has been Chief Instructor of the Saskatoon Aikikai for 30 years. Kawahara Sensei was his main teacher.
CAF meeting and seminar in Saskatoon 1997 with Kawahara Sensei. CAF Board representatives from Newfoundland to Victoria. (Also Pat Olson who started her Aikido in Saskatoon with Ohtsu Sensei and went on to host many BCAF and CAF summer camps in Kelowna)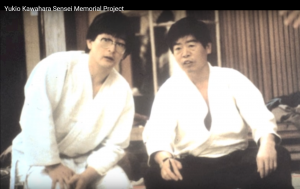 Kawahara Sensei and Hirocki Izumi Sensei, the first Aikido Shodan from Saskatoon. ( Their spirits live on in the students they taught )
Ohtsu Sensei and Kawahara Sensei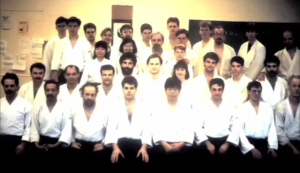 CAF Meeting Saskatoon 1992. Can you pick out George Hewson Sensei the guest instructor?
With:
Ohtsu Makoto, Sensei 7th dan, from Nagoya Japan, Founder of the Saskatoon Aikikai,
George Hewson, Sensei 6th dan, Guest instructor, from the Canadian Aikido Federation.
Location:
Saskatoon Aikikai
Albert Community Center
#5, 610 Clarence Ave South
Saskatoon, SK
S7H 2E2
Schedule:
| | | |
| --- | --- | --- |
| Date | Time | Activity/Instructor |
| Friday May 25 | 4:00pm to 5:30pm | Hewson Sensei |
| Saturday May 26 | 10:00am to 12:00pm | Hewson Sensei |
| Sunday May 27 | 09:30am to 10:30am | Hewson Sensei |
Costs:
| | |
| --- | --- |
| Attendance | Fee |
| Full Seminar | $100 |
| Each day | $50 |