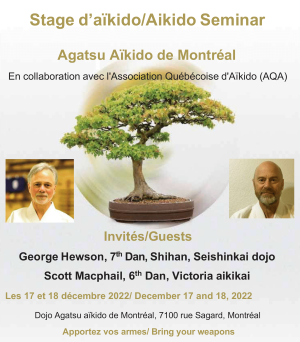 We are very happy and honoured to invite you to our annual aikido seminar 2022. Il it the first time in 3 years that we organize such an event after the more than two years covid-19 pandemic. Our invited guest instructors are:
George Hewson
Sensei George began practicing aikido in 1975 JCCC Aikido Club in Toronto under Sensei Osamu Obata and Sensei Kenji Ochi. In 2015 Shihan Hayato Osawa recommended him for the title of CAF "Shihan" and was promoted to the rank of shichidan (7th degree black belt) in 2021.
George has served for over thirty years on the boards of the Ontario and Canadian Aikido Federations.
He is currently Past-President of the CAF and a member of the CAF Examination Committee.
Scott MacPhail
Scott Macphail began his training at the University of Victoria in 1975. The instruction was based on the teachings of Koichi Tohei Sensei with practice focused on 6 fundamental techniques. Ishiyama Sensei became the Chief Instructor of Victoria Aikikai in 1979 and he and Kawahara Sensei were Macphail Sensei's main influences. When Ishiyama Sensei moved to Vancouver in 1986 Macphail Sensei became the Chief Instructor. Since that time Macphail Sensei has been privileged to receive regular guidance from Ishiyama Shihan and Kawahara Shihan before his passing. He has attended numerous summer camps and seminars taught by North American Shihan and Hombu dojo instructors.
With:
George Hewson Shihan 7th dan
Scott MacPhail, 6th dan
Location:
Dojo Agatsu Aikido de Montréal
7100 Sagard Montréal Qc H2E 2S5
Seminar Schedule:
| | | |
| --- | --- | --- |
| Saturday Dec 17 | 13:00 - 17:00 | Classes |
| | 17:15 | Dan Exams |
| | TBA | Dinner |
| Sunday Dec 18 | 10:00 - noon | Classes |
Seminar Registration :
You can register at: or at the seminar. Early registration will benefit from a discounted rate.
Onsite registration will begin Saturday from 11:30, and Sunday from 9am. Currency mentioned below is in Canadian dollars.
Early registration
Complete your registration form by December 10 to avail yourself with the 2 days 50 $ rate. https://forms.gle/QSpNtJ7CBHYjSyJA8
Cancellations
Refunds for cancellations will be made via the same method as the payment.
Costs:
| | |
| --- | --- |
| Saturday Dec 17 | 60 $ |
| Sunday Dec 18 | 30 $ |
| Both Days | 70 $ |
Seminar Contact(s):
Posted in Uncategorized