We are saddened by the passing of Yamada Sensei
The Canadian Aikido Federation offers its condolences to all the members of the United States Aikido Federation on the passing of Yamada sensei. He was an incredible individual – a remarkable leader in many ways not to mention an outstanding aikidoka. His influence was wide-reaching and a lot of us have been so lucky to have learned from him. He will be missed in ways we can not yet imagine. Please accept our sympathy for your loss and know that we are here to support you in whatever way we can.
Fri, Oct 28, 2022 – Sun, Oct 30, 2022
With: Hayato Osawa Shihan, 8th Dan

Please save the dates for the CAF fall seminar with Osawa Sensei: Oct 28-30, 2022. The seminar is planned to take place at VWA Dunbar (Immaculate Conception Parish Gym, 3778 West 28th Avenue, Vancouver, BC).
More details to follow.
CAF 2022 Summer Seminar Series with Osawa Shihan – Save the Dates!
This year, we have modified our seminar format for the summer. Instead of a week-long summer camp in one Canadian city, we are holding a seminar series to be held in 3 different Canadian cities! Please save the dates:
Sat, Jun 25, 2022 – Sun, Jul 3, 2022. Cities
The Kawahara Shihan Award for Outstanding Contribution is conferred upon distinguished individuals who have contributed significantly to the advancement of aikido in Canada and who have continued Kawahara Shihan's legacy through their commitment to service in the Canadian Aikido Federation.
I am pleased to officially announce the 2022 recipient of this prestigious award is:
Cecil Paris, a brief profile of whom can be found here.
Steve Erickson, President, Canadian Aikido Federation
Virtual Aikido Seminar 2021 Recap
Beyond our wildest dreams.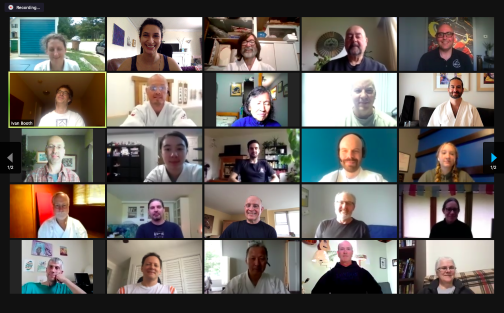 Sometimes we go into a virtual event and we have an expectation of what that may look like: a lot of awkward silences, verbal cues to unmute or mute oneself, an excess of screen time…and to an extent, there were those inevitabilities of online event hosting, but the seminar managed to transcend those. Mainly due to the community it drew. more …
Aikido during the Covid-19 Pandemic
Keeping students engaged and connected while in-dojo classes are not permitted is a challenging yet rewarding task. CAF President Steve Erickson of BigRock Aikikai in Calgary tells his story.
AikiBlaze with Kim Sensei and Anita Sensei
Saturday, April 3, 2021 (3:30-5:00 PST, 6:30-8:00 EST)
The next AikiBlaze Zoom class will be taught by two instructors from the CAF's Board of Executives: Kim Riddick (5th dan, Chief Instructor of North Delta Aikikai) and Anita Abbasi (2nd dan, Assistant Instructor at Aikido Shugyo Dojo).The 90-min Zoom-class (two 45-min classes in succession) will focus on how to move in relation to one's centre using solo practices that can be easily incorporated into at-home training.
For more information, please visit https://www.clearwateraikikai.ca/events/aikiblaze-with-kim-and-anita-sensei
AikiBlaze with Ben Peacock Sensei in conjunction with Clearwater Aikikai, a HUGE success!
This past Saturday's "AikiBlaze" was a cross-dojo collaboration organized by senseis Myrna Harrod-Taniguti (Clearwater Aikikai) and Ben Peacock (Burloak Aikikai). Harrod-Taniguti-sensei wrote this recap for her dojo's website. The next AikiBlaze session is tentatively set for Saturday April 3rd. Stay tuned! "On Saturday March 13, my good friend Ben Peacock Sensei (5th Dan, Chief Instructor at Burloak Aikikai Aikido in Ontario) taught the first of what we hope will be a series of "AikiBlaze" classes. The idea for AikiBlaze arose because despite wanting to train together virtually, we both knew that there was no way I was ever going to make the 3:00 AM wakeup call that would have been required for me and others in BC to participate in Ben Sensei's regular morning class. From there, we thought, "Why not invite others?" And then we thought, "Maybe we should get in touch with some friends from Hombu days?" Then it kind of snowballed; we ended up with 28 participants from 13 dojo in 4 different time zones and 2 countries. It was kind of an eclectic group: there were participants from 4 different associations, the range of ranks stretched from "brand new" to 5th dan (with most of us somewhere in the middle), a good 1/3 of us were women (yay!), and there were youths, young adults, and, ahem, upwards. The one thing we all had in common? We really like Aikido, and we want to see it thrive despite the varying physical limitations the pandemic has placed upon us… Read more.
International Women's Day
The Canadian Aikido Federation acknowledges the incredible contributions of the women practicing and nurturing the art of Aikido here in Canada. We would also like to take this moment to recognize and celebrate Yumi Nakamura Shihan on her 7th Dan promotion at this year's Kagami biraki. Nakamura Sensei is a prominent figure within the CAF: teaching at seminars and summer camps as well as her work as former Chair of the Examination Committee.
2021 Recipients of the Kawahara Shihan Award for Outstanding Contribution
The Kawahara Shihan Award for Outstanding Contribution is conferred upon distinguished individuals who have significantly contributed to the advancement of aikido in Canada and honored Kawahara Shihan's legacy through their service to the Canadian Aikido Federation.
I am pleased to officially announce the 2021 recipients of this prestigious award as follows:
Dennis Adair Shin Chin Bill Collins Hiroaki Izumi
Paul Martin Osamu Obata Fran Turner
A brief profile of each recipient can be found here.
Steve Erickson, President, Canadian Aikido Federation
2021 Kagami-biraki Ceremony Promotions
The Canadian Aikido Federation is pleased to announce the following promotions at the 2021 Kagami-biraki Ceremony:
Yumi Nakamura for 7th Dan
George Hewson for 7th Dan
Dzung Nguyen for 5th Dan
Gabriel Dimarco for 5th Dan
Ivan Booth for 5th Dan
Johannes Malais for 5th Dan
John Patrick Foster for 5th Dan
Adrian Iliescu for 5th Dan
Camber Muir for 5th Dan
Robert Fudge for 5th Dan
Kim Riddick for 5th Dan
Congratulations to all of the recipients!
CAF Board of Directors

Dan Jones, Past President Canadian Aikido Federation
Talks 'Practicing Aikido for Fitness' on CTV News
Watch CTV News segment on Aikido Marshal Arts at a Dojo in Calgary.
View CTV Interview with Dan Jones
Talking Aikido at the Saskatoon Aikido Club with Don Ragush Sensei
A look at the Japanese martial art Aikido. Don Ragush discusses some insights into Aikido, helping us to understand the major approach to learning and practicing Aikido.
View video
2020 Promotion List
"Congratulations to all of the following students for New Year promotion by Hombu!"
Nidan 2nd Dan: James Kirkland, Troy Beauregard
Sandan 3rd Dan: Peter MacAuley
Yondan 4th Dan: James Goreas
Promotion of Osawa Shihan to 8th Dan
We would also like to acknowledge the significant promotion of Osawa Shihan to 8th Dan at Aikikai Hombu Dojo during Kagamibiraki 2019. Here is a YouTube link to watch the presentation ceremony.
Examination Committee

Obata Sensei's upcoming retirement
On behalf of the Canadian Aikido Federation I would like to congratulate Osamu Obata Shihan on his upcoming retirement to Japan. In addition to being a leader of Aikido in Canada, the Aikikai Foundation also recognizes Obata Shihan as one of the Japanese Instructors Abroad. Aikido students outside of the Japanese Canadian Cultural Centre will surely miss seeing Obata Shihan on the CAF Examination Committee at our Camps and Seminars. His teaching and input on examination will be missed. His spirit, though, will continue at the Japanese Canadian Cultural Centre.
Obata Sensei profile …
Dan Jones
Past President CAF
Canadian Aikido Federation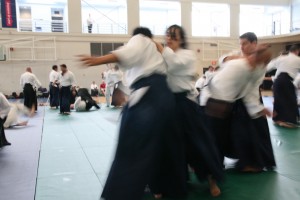 General information regarding the structure of the organization, mandate, affiliation with Aikikai World Headquarters, Technical Direction and Provincial Associations, is on the about the CAF page under the Information menu.
Listings and contact information for Member Dojos both alphabetical and organized by province are available from the Dojos menu.
Upcoming CAF sponsored events as well as those of member dojos are listed under the Seminars menu.
Detailed information including listings and contact information for the Examination and Technical Committees is available to logged in students only.
The CAF has group insurance coverage. Details regarding coverage, claims, and contacting the insurance company is available on the Insurance page.
This website provides information regarding administrative services provided to member dojos of the Federation. Various registration and testing fees, processing information, administrative forms, test requirements, test worksheets, and other useful aids can be found under the Documents and Technical Resources menus. We are publishing this information on-line for easy access and cost efficiency. So please download the PDF documents and print the forms yourself where possible.
Member dojos that have a special event or seminar coming up can request that it be listed on the website. Go to the Seminars menu for current listings.
News and Recent Updates
Recently added information or important news will be highlighted on this main page and also under the News menu.
Most recent information is at the top of the list.
Please use the Dojo Registration and Renewal Form to register with the CAF.
If you have any ideas, suggestions, or problems with this website please email the CAF Webmaster with the details.