2023 CAF Shihan Appointments from Aikikai Hombu Dojo
The following senior Canadian Aikido Federation instructors have been appointed the honorary title of Shihan by Aikikai Hombu Dojo, Tokyo:
Mr. Alex Loo, 6th Dan
Mr. Jim Barnes, 6th Dan
Mr. Pierre Fortin, 6th Dan
Mr. Scott Macphail, 6th Dan
Please join us in congratulating our senior members for a lifetime of dedication to aikido and our community!
Steve Erickson, President,
Canadian Aikido Federation
We are happy to announce the CAF 2024 Summer Camp with Osawa Shihan! Please join us in Halifax for a week of classes led by Osawa Shihan and our esteemed group of CAF instructors. Registration opening in the new year. Please find seminar details in the link above.
Bursaries for attendance available to CAF members who require financial assistance, on a first come, first served basis.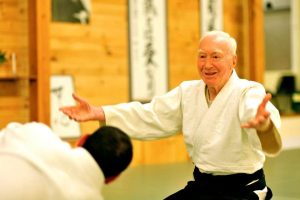 The Canadian Aikido Federation is deeply saddened by the loss of Bill Collins Sensei, 6th Dan in the early hours of Wednesday February 22nd, 2023. Bill Sensei, the first person in Canada to receive a black belt in Aikido, was instrumental in the development of the art in Ontario, being one of the founding members of the Toronto Aikikai. Locally, Bill Sensei supported and was supported by a large number of Ontario Dojos, not only running his own school, the Toronto Beaches Aikikai, but also teaching at numerous seminars and as a long term guest instructor at Aikido Shugyo Dojo. more…


We are saddened by the passing of Yamada Sensei
The Canadian Aikido Federation offers its condolences to all the members of the United States Aikido Federation on the passing of Yamada sensei. He was an incredible individual – a remarkable leader in many ways not to mention an outstanding aikidoka. His influence was wide-reaching and a lot of us have been so lucky to have learned from him. He will be missed in ways we can not yet imagine. Please accept our sympathy for your loss and know that we are here to support you in whatever way we can.
2023 Kagami-biraki Ceremony Promotions
The Canadian Aikido Federation is pleased to announce the following promotions at the 2023 Kagami-biraki Ceremony:
Patricia Olson for 6th Dan
Kenji Yoshimi for 6th Dan
Tim Turner for 5th Dan
Jolanta Lagowski for 4th Dan
Nick Petrescu for 4th Dan
Myrna Harrod-Taniguti for 3rd Dan
Congratulations to all of the recipients!
If you have any ideas, suggestions, or problems with this website please email the webmaster with the details.

PANEL DISCUSSION RECAP: HOW TO KEEP YOUNG ADULTS (19-29 yrs) ENGAGED IN AIKIDO
The beginning of something bigger is the best way to describe the panel discussion we held on Monday June 26 at this year's summer camp in Calgary.
Discussions like these break the ice. They nurture an openness to different perspectives and debunk the myth that knowledge and wisdom are reserved for a select few.
Moderated by Anita Abbasi (CAF member-at-large), the panel discussion brought together four CAF members of varying ages, experiences and stages in their Aikido career: Maya Hanevy (19 years-old, 4th kyu at BigRock Aikikai), Gurneet Singh (26 years-old, 4th kyu at JCCC Aikikai), Esteban Ricalde (42 years-old, 4th Dan at Avalon Aikikai) and Martin Moreau sensei (50 years-old, 4th Dan, chief instructor at Rock Water Aikikai).
The topic to be dissected was an elusive one for a lot of dojos across Canada: "How to keep young adults (19-29 years-old) engaged in Aikido?" Read More